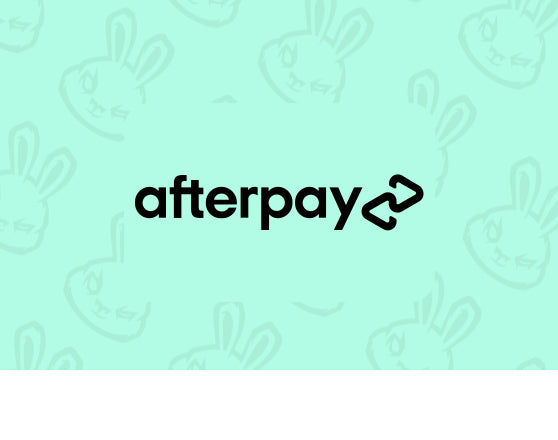 Sneak now, pay later
Need to stock up on your favourite flavour but can't wait for payday? Want to make sure you bag that limited drop before it sells out? Now you can with AfterPay


How does AfterPay Work? With Afterpay you can pay for your purchase over 4 equal installments. 1. Select Afterpay at Checkout . 2. Simply Complete your Checkout, you will be redirected to Afterpay to complete your purchase. 3. Pay over 4 equal Installments, there are no additional fees when you pay on time!
What do i need?


You need to be 18 or over, a US resident and have a US mobile number. If you are eligible and choose Afterpay. You'll receive your order from us as normal. Your first payment will be taken at the time of checkout.
FAQs
What is Afterpay?

Afterpay is an installment payment option, a service that allows us to offer our customers the ability to make purchases now and pay for them in four payments every weeks without any interest when all payments are made on time.

How do I use Afterpay?

Just shop on SNEAK and check out as normal. At checkout, choose the Afterpay payment method. You will be directed to the Afterpay website to register and provide payment details (Visa/Mastercard). If you've used Afterpay before then you just need to log into your account. Then complete your order and it's that easy.

How does the Afterpay payment schedule work?

All Afterpay customers are required to make their first payment at the time of purchase. The remaining three payments are deducted automatically every 2 weeks from your selected payment method. If you would like to make additional unscheduled payments before they are due, you may log in to Afterpay to make your payments early. Afterpay will then adjust the amount owed accordingly.

You can log in to your Afterpay account anytime to view your payment schedule or make a
payment before the next due date.

Is there a limit to how much I can spend on a single Afterpay transaction?

Yes, your basket value must be over $35 and there is currently a maximum order value $1000, however this may differ from customer to customer depending on their capacity to repay.

Please see more information about this here.

Can I use Afterpay if I'm an International Customer?

Afterpay is only available to customers with a United States billing address.

Customers with international billing addresses will not be able to create an Afterpay account.

What if I can't pay a Afterpay Installment?

When will my items be delivered if use Afterpay?

Afterpay orders are delivered within our standard delivery timeframes like any normal order from SNEAK.

How do I return an item purchased with Afterpay?

Afterpay returns will follow our standard returns process. Please note, refunds for Afterpay will be refunded from SNEAK to Afterpay and we cannot provide an exchange or cash refund. As soon as the refund has been processed it will drop
into your online Afterpay account.

Do you have more questions about Afterpay returns? Click here.

Where can I find out more about Afterpay?

Please Note:

You must be over 18, a resident of the U.S. and meet additional eligibility criteria to qualify. Late fees apply. Estimated payment amounts shown on product pages exclude taxes and shipping charges, which are added at checkout. Please go to www.afterpay.com/purchase-payment-agreement for complete terms.

Loans to California residents made or arranged pursuant to a California Finance Lenders Law license.